Vinyl Fence Company Gastonia NC
Why not let Affordable Fence Guys install your last fencing project with a Vinyl Fence Company Gastonia NC?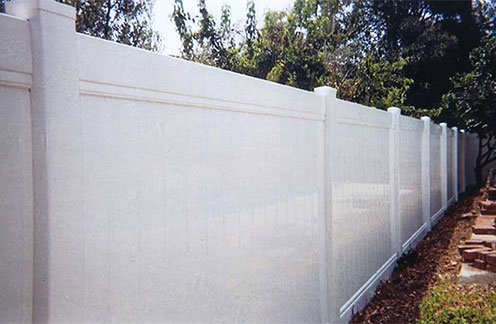 Vinyl Fence is growing more popular for reasons that are obviously smart investment choices. Once installed by a Vinyl Fence Company, vinyl fencing provides your home with privacy, a pleasing upgrade to your homes asthetics, and protection for your family without all of the hassle of maintenance that traditional fences require.
Fence that is Made to Last
Vinyl fencing is a great investment in more ways than just one. People are choosing to use vinyl PVC fences in Gastonia NC for their property because they last. All sorts of things break down on wood fencing. Both rain and sunshine have a negative effect on traditional wooden fencing and their appearances. You can treat those things every 2 years, but even then, your wood fence will not be protected 100%. Vinyl fencing takes care of that as it doesn't rot or need treated every 2 years.
Vinyl PVC fencing Gastonia NC is not only stylish and beautiful as a wooden fence, but it is also as durable as fencing comes. It does not get sun damage like wood fence, and rain runs off of it not soking into it. On top of that, it's incredibly impact resistant today versus several years ago. If hit by a a mower or bicycle it will flex and then regain its natural shape. Flexibility is key to strength in any engineering design. Wood or chain link may start out with that same flexibility, but after rot or rust sets in from time out in the elements, those materials will break or crack. Vinyl fencing does not break down in that way.
Minimal Maintenance Fencing
Say goodbye to fence maintenance! Many people install wooden fencing due to costs upfront, which provides more than privacy — wooden fencing also provides you with never ending maintenance and repair projects including nails coming loose, warped boards, rotten posts. Why go through the trouble of installing a fence that is a huge investment that you're just going to have to treat and repair throughout its lifetime?
Vinyl fencing Gastonia NC requires no more than a garden hose to clean. When a wooden fence is wearing down, you'll need to stain it, weather-treat it, or even replace planks. Vinyl Fence doesn't have all this unnecesary upkeep.
Think of the hours you have to spend treating wood or finding a company to do the work for you at additional expense with chemicals, which are dangerous to inhale and a hazard to keep around the house, especially if you have small children. All you need is all-purpose cleaner or dish soap and a water hose. You won't need to buy anything outside of your normal household cleaning products to keep your fence in new condition and you will not have to hire anyone to do this for you.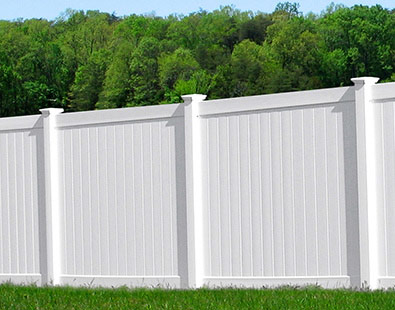 Thus you will spend less time, money, and energy maintaining your vinyl fence in Rock Hill, the cost over time is measurably lower than a wooden fence typically overall you will start saving money within the first 2 to 4 years! Vinyl PVC fencing is made to withstand most things your family, or mother nature, ask of it. Spend more time enjoying your home, family and yard and less time repairing it.
Contact us today to get started with a FREE ESTIMATE!
Privacy Fencing Provides Security & Privacy
One of the basic ideas behind building a fence on your property is to have a little privacy. Even if you love to entertain your family and friends, it's nice to know you can have your own space whenever you want it. Vinyl fencing can provide total privacy for your home. There are no cracks, gaps, or holes in vinyl fencing, unless you choose to have a semi privacy or picket style.
Vinyl Fence Company Gastonia NC That Keeps Your Family Safe
You love your kids and pets, and fencing can keep them safe. If you have small children, we all know they love to climb and explore on everything! Chain link is easy to scale, maybe for small hands and feet in particular and also get closthes hung onto, and wooden fencing comes with the risk of splinters, or loose nails. Vinyl fencing is a solid piece of material with no footholds, no splintering, no worry. The posts almost nearly seamless!
Dogs are a family's best friend and one way to know which section of your wooden fencing is wearing out is to see where your dog, or your neighbor's dog, is scratching at the most. Dogs tend to want to get or explore things and if a fence gets in their way they will scratch, dig, and chew on it until they've gotten through. Vinyl fencing takes those opportunities away from your canine explorer. There are no weak spots that have deteriorated in the sun and rain, and no gaps they can scratch or chew.
Send us you information for a FREE ESTIMATE or Call Us at 803-374-7373!