Aluminum Fence CONTRACTOR
NC and SC: Aluminum Fences may require a larger initial investment than vinyl fences, wood fences, composite fences, chain link fences, and can rust if not properly cared for.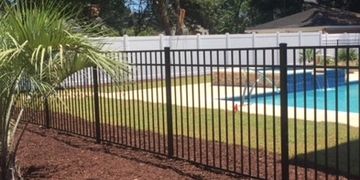 However, Aluminum Fences provide a more stylish, customized look, and are ideal enclosures for pools and gardens. Plus, Aluminum Fences nicely complement early American and Victorian architecture. The proper wrought Aluminum Fence or Aluminum gate will provide an aged look that lends style and elegance to your home.
Contact an Aluminum Fence contractor at Affordable Fence Guys. Call us at (803)374-7373 or submit a request online for a FREE Aluminum Fence ESTIMATE if you need a residential or commercial Aluminum Fence design and installation in NC and SC.
We are licensed, bonded, insured and a BBB, A+ Aluminum fencing company.
We Serve The Following Surrounding Areas For Fence
Charlotte NC , Gastonia NC , Pineville NC , Matthews NC , Columbia SC , Lexington SC , Rock Hill SC , Lancaster SC , Fort Mill SC , Spartanburg SC