Lifetime Warranty Ornamental Aluminum Fence Rock Hill SC Company
Click Here To Contact Us Now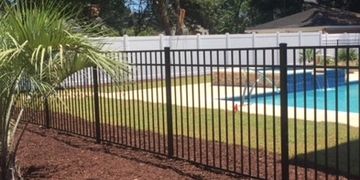 There are many ways to improve a homes curb appeal with Alumium Fence Rock Hill SC but we must keep in mind the long term affects. Since 2001 Affordable Fence Guys has been helping homeowners improve there home appearance by providing Quality Aluminum Fence Rock Hill SC to protect there home, children and pets as well. A durable lifetime warranty product just makes financial common sense for the long term.
Ornamental aluminum fence Rock Hill SC is a common sense product for long term durability and warranties as it is virtually maintenance free and will not rust or rot versus wood and steel products. Contact us today at 803-374-7373 for a Free Estimate or fill in the contact form below and we will email you an Estimate.
We Have High Quality Aluminum Fence Rock Hill SC and Gates
While there usually is a happy marriage between Form (style) and Function (practicality), sometimes it's not and we'll be the first to help you understand why choosing Affordable Fence Guys as your Ornamental Aluminum Fence Rock Hill SC Contractor is the right choice for your property.
Made in the USA right here in the Carolinas
Made from primarily Recycled Materials
All of our gates come with self closing hinges and key magna latches
Structurally stronger than products from Lowes and Home Depot
Variety of Styles and heights to give you style and options
Pool code approved aluminum fences & gates
By choosing the standard design or another of our variety of fencing designs, you know that you are getting an ornamental aluminum fence and gate that is sure to last for years to come. Download our online catalog on the right side of this page to see our fencing options and choose one of the craftsmanship products that fits your needs from our Rock Hill SC residential ornamental aluminum fencing products.
Bring Your Ideas to Life Using Rock Hill SC Ornamental Fencing Rock Hill SC By Affordable Fence Guys
The median price of a single family Rock Hill home is expensive. Many Rock Hill homeowners choose to install a new Ornamental Aluminum Fencing Rock Hill SC to increase their property value. Certainly a house with a fence should be worth more than homes on your block that don't have a fence.
Consider other practical benefits of Aluminum Fencing:
Provide privacy by blocking sight lines into your yard
Keep children or pets in (or out of) your yard
Enclose your tennis court or pool
Mark your property boundaries
Aluminum Fence Rock Hill SC does not rust, peel or crack
Carries a Limited Lifetime warranty through the manufacturer Barrett that includes shipping you a replacement part at no cost if anything covered happens unforseen
We provide a scale of different ornamental aluminum fence Rock Hill SC for every neighborhood, home style and application from appearance to function. For a low-maintenance, strong / durable decorative fence to get the classic wrought-iron look, choose Aluminum fencing.
Our aluminum fencing company has the strongest aluminum alloys, and incorporates more aluminum in our rails and pickets than most of our competitors. All the components of our Residential Fences are factory assembled with aluminum fasteners to ensure structural integrity. The entire assembly is protected with a Powder coat finish, a durable finish that gives the aluminum a nice finished look.
All of our fencing sections are in 6' lengths of heights — 48", 54", 60", and 72". We can follow modest changes in grade along your property line.

Many of our customers appreciate aluminum fencing for their South Carolina residential properties for its attractive appearance but did you also know that it's low maintenance too? That means that you will have more time to do the things you love instead of cleaning or repairing a fence! Aluminum fences won't fade, rust, or rot and they require very little maintenance other than a spray with a hose to remove loose dirt and debris from time to time. Of all the benefits of aluminum fencing, its minimal maintenance is definitely a huge bonus!
FREE Fence Contractor Rock Hill SC Fence Estimate
Call us at (803)374-7373 or submit a request online for a FREE FENCE ESTIMATE if you need a residential Aluminum Fencing Company to design and handle your installation in NC and SC . We'll schedule an appointment to visit you at your location right away.
We are licensed, bonded and insured. We have an A+ rating with the BBB.
Since 2001, Affordable Fence Guys has been fencing the neighboring NC and SC neighborhoods. With over 100 years combined experience among our associates, we are the best known and highest rated fencing company in NC and SC. Dont take our word for it check our Google Reviews for what our customers have to say themselves!
Contact us online for a FREE FENCE ESTIMATE to appreciate how we outperform the competition in NC and SC.
Rock Hill SC Fence Cost and Pricing Averages
We Serve The Following Surrounding Areas
Charlotte NC , Gastonia NC , Pineville NC , Matthews NC , Columbia SC , Lexington SC , Rock Hill SC , Lancaster SC , Fort Mill SC , Spartanburg SC