FENCE CONTRACTOR
So you're considering buying a new fence? Allow a licensed fence contractor, Affordable Fence Guys help you make the best fence buying decision for residential and commercial customers in NC and SC.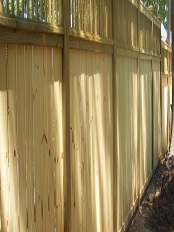 We'll start by explaining it comes down to 2 considerations: Form and Function. While there usually is a happy marriage between Form (style) and Function (practicality), sometimes it's not and we'll be the first to help you understand why.
For example, you might own a cottage-style home and believe it's only natural to have a picket-style cedar wood fence. However, you have major security concerns in your neighborhood and need a chain link fence instead. As you can see in this example, you might need to choose Function (security) over Form (aesthetics).
Buying a Fence Questions and Answers
How much privacy would you like?
This will determine the height and style of your fence.
What is your budget range?
Certainly you can try to install a fence yourself to save you money, but be aware there are disadvantages to this option that can be more costly in the long term than hiring a reputable, licensed, BBB, A+ accredited fencing contractor such as Affordable Fence Guys to design and install your fence properly the first time.
Call us at (803)374-7373 or submit a request online for a FREE FENCE ESTIMATE if you need a residential or commercial Fence design and installation in NC and SC . We'll schedule an appointment to visit you at your location right away.
We are licensed, bonded and insured. We have an A+ rating with the BBB.
since 2001, Affordable Fence Guys has been fencing the neighboring NC and SC neighborhoods. With over 100 years combined experience among our associates, we are the best known and highest rated fence company in NC and SC.
Contact us online for a FREE FENCE ESTIMATE to appreciate how we outperform the competition in NC and SC.