Affordable Wood Privacy Fence Company Company Matthews NC
We are installing in Matthews NC although effective June 1st 2021 due to fuel costs and time to do on-site Estimates there is a $100 Estimate Fee (Refundable on final Invoice if we do your Company) for on-site Estimates, although onine Estimates are remaining free of charge.
Click Here To Contact Us Now
Are you buying or repairing a wood fence and need an experienced fence Company Matthews NC? Depending on your home architecture, choosing the right fence Company, for your wood, vinyl fence, composite fence, iron fence or chain link fence can make a huge difference.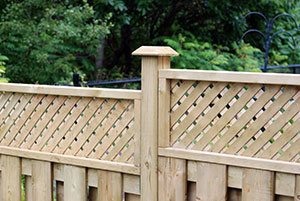 Wood Privacy Fence Builder in Matthews NC
Allow a licensed fence Company at Affordable Fence Guys help you make the best residential fence building decision for your Matthews NC home.
We'll start the process by explaining it comes down to 2 considerations: Form and Function.
fence Company Matthews NC Wood Fencing
While there usually is a happy marriage between Form (style) and Function (practicality), sometimes it's not and we'll be the first to help you understand why.
For example, you might own a cottage-style home in Matthews NC and believe it's only natural to have a 4 foot picket-style Pressure Treated Pine wood fence installed by your fence Company. However, you have a privacy concern and need a 6 foot wood privacy fence installed instead. As you can see in this example, you might need to choose Function (security) over Form (aesthetics).
Benefits of owning a wood fence in Matthews NC
The median price of a single family Matthews home is expensive. Many Matthews homeowners choose to install a new privacy fence or garden fence to increase their property value. Certainly, a house with a fence should be worth more than homes on your block that don't have a fence.
If you are planning on selling your property at any time in the near future you need to consider how it will appear to potential buyers. A wood fence in Matthews NC is a great way to give your home an aura of stability and safety that will put a potential buyer's mind at ease. Whether you are in the market for a fence because you want the functionality and visual beauty that it will add to your home, or because you want your home to look its best for potential buyers, a wood fence will always be a worthwhile investment. Let our fence Company build the perfect fence to compliment your Matthews home.
Consider other practical benefits of a Matthews Wood Fence:
Provide privacy by blocking sight lines into your yard
Keep children or pets in (or out of) your yard
Enclose your tennis court or pool
Mark your property boundaries
Request a FREE Quote for a Wood Privacy Fence in Matthews NC
Call Affordable Fence Guys at (803)374-7373 or submit a request online for a FREE FENCE ESTIMATE. If you need a residential Fence design and Company in NC and SC. We'll schedule an appointment to visit you at your Matthews location right away.
Since 2001, Affordable Fence Guys has been building and installing wood privacy fences in Charlotte NC, Pineville, Gastonia, Fort Mill SC, Rock Hill SC, Lancaster SC, Columbia SC and surrounding NC and SC areas.
Contact us online for a FREE FENCE ESTIMATE to appreciate how we outperform the competition in NC and SC.
Matthews NC Wood Fence Cost and Pricing Averages in Matthews NC
Pine has been used locally in Matthews NC as the best fence option for wood fence, proving itself as a substainable material for many generations. Naturally resistant to rotting and decay, pine requires very little maintenance and staining every few years. Pine has the quality of weathering over time and with proper care, provides and a nice clean look. Pine is also environmentally friendly.
How Much Does Pine Fencing Cost in Matthews NC?
Pressure-treated pine fences cost anywhere from about $10 to $25 per linear foot, including Company. If you need 150 linear feet of fencing - which is fairly typical for a residential backyard - budget anywhere from $1,500 to $3,750.
A picket fence no taller than four feet would fall on the low end of that price range, while a six-foot privacy fence would fall on the high end. Decorative features such as a scalloped top add about $2 per linear foot. Removal of an old fence usually adds about $3 to $6 per linear foot.
Pine Fence Maintenance
Pressure-treated pine fences require regular maintenance to prevent rotting. They should be cleaned and inspected at least once a year. Any loose nails should be hammered in and any rotting boards should be replaced. Every few years, your pressure-treated pine fence should be repainted or re-stained. Regular sealing is also recommended to prevent cracks and weather damage.
Pine Fence Pros
Price - Pressure-treated pine is the least expensive of fencing materials, priced significantly less than cedar.
Better material for posts - Although cedar is overall the more durable of the two materials, pressure-treated pine stands up better when it is exposed to soil. Because of this, most cedar fences have posts that are made of pressure-treated pine and boards made of cedar.
Cedar Fences in Matthews NC
Cedar is a beautiful, high-quality wood that is easily recognizable for its reddish-brown color. The wood contains natural preservatives, so it does not require any type of chemical treatment. Cedar is popular for its distinct look, as well as its durability, though it is more expensive than pressure-treated pine.
How Much Does Cedar Fencing Cost?
Cedar fences typically cost about $15 to $30 per linear foot, including Company. For a fence spanning 150 linear feet, that works out to $2,250 to $4,500. Keep in mind that most cedar fences use pressure-treated pine for the posts.
Small picket fences fall on the low end of that price range, while tall privacy fences fall on the high end. The price is also impacted by factors such as ground conditions, the time of year and local labor rates.
As with pressure-treated pine, you'll pay about $2 per linear foot extra for decorative features like a scalloped top and $3 to $6 per linear foot extra for removal of an old fence.
Cedar Fence Maintenance
Cedar fences require less maintenance than those made of pressure-treated pine, but you can't ignore upkeep altogether and expect them to last.
Clean the fence about once a year using warm water and mild dish soap. Scrub stains with a brush, paying extra attention to any spots with mold or mildew. Once clean, rinse the fence with the garden hose.
Inspect the fence once a year to make sure board are in place and free of rot, and always trim bushes, vines and weeds that are growing on the fence, as they can cause significant damage over time. A waterproof sealant, while not required for cedar, will extend the life of your fence.
It's important to know that cedar will naturally gray over time. Many people love this weathered look, but you can preserve the original reddish-brown color through regular pressure washings and resealing.
Cedar Fence Pros
Look - Cedar has rich color and a beautiful grain pattern that is unmatched by pressure-treated woods. If you prefer the look of natural wood, cedar is the better choice.
Durability - Cedar tends to last longer and hold up better. It is less likely to warp, buckle, twist or shrink. And it naturally rot and insect resistant.
Maintenance - Cedar does require regular maintenance, but the maintenance is usually less than with pressure-treated pine.
Lifespan - Cedar is known to last 30 years or more with proper maintenance - about double that of pressure-treated pine.
Contact us online by clicking for a FREE FENCE ESTIMATE to appreciate how we outperform the competition in Matthews NC.